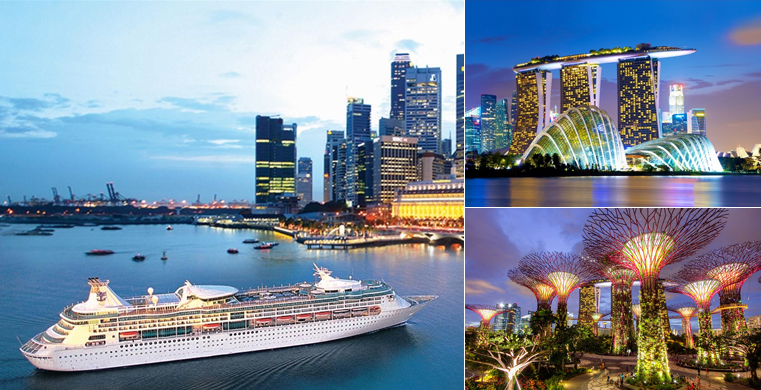 Singapore is an ideal holiday destination for the entire family - you can visit Sentosa Island, Jurong Bird Park, Night Safari and Universal Studios for a day of fun and frolic with the kids, enjoy shopping & dining on Orchard Street and Marina Bay, experience the pulsating night life at Dempsey Hill & Clarke Quay, enjoy a visit to one of the fantastic museums or spectacular festivals and much more - Singapore has memorable experiences to offer everyone.
Travel to Singapore this festive season and combine your stay in Singapore with an exciting range of 3 to 5 night cruises from Singapore from the world's leading cruiseliners namely Royal Caribbean, Princess Cruises, Costa & Dream Cruises.
5 Cruiseliners. 50+ cruise itineraries. Cruising from Singapore this winter.
| | |
| --- | --- |
| Dream Cruises | |

Dream Cruises is Asia's first premium cruiseline launched last year with their 1st ship Genting Dream. The ship has 1,700 staterooms; 35 restaurants and bars; various entertainment areas including a wrap around promenade and a large observation lounge. From December 2017, Genting Dream will move its home port to Singapore and operate 2,3 and 5 night cruises to Thailand and Malaysia.

Featured Cruises:

(with 45 days advance purchase fares)

2 nights high seas cruise from Dec 17 to Mar 18 starting at Rs 18,885 per person
5 nights cruises to Malaysia & Thailand from Dec 17 to Mar 18 starting at Rs 38,745 per person

---

| | |
| --- | --- |
| Royal Caribbean | |

Experience a fun filled sailing experience on Royal Caribbean's Mariner of the Seas. With 15 decks, 4 pools and 17 bars, clubs and lounges, this ship has it all. Mariner of the Seas offers 3 to 5 night sailings to Malaysia and/or Vietnam from Singapore from Sep 17 to Mar 18. Experience the 'WOW' onboard one of Asia's best cruise ships this winter!

Featured Cruises:

3 Nights Weekend Getaway cruise to Malaysia this Diwali starting at
US $ 307 pp! Diwali sailing dates: 13th, 20th & 27th Oct 17
5 Nights Spice of South East Asia cruise to Malaysia & Thailand this Christmas & New Year starting at US $ 749 pp! Sailing dates: 23rd and 28th Dec 17

---

| | |
| --- | --- |
| Costa Cruises | |

Costa's focuses to combine comfort, entertainment & pleasure - Italian style! Costa has deployed Costa Victoria for 3 to 5 night cruises from Singapore to Phuket, Penang & Langkawi from November 17 to January 18. The ship has 964 cabins including 20 suites, 2 dining rooms, casino, theatre, three pools & four Jacuzzis and a spa.

Featured Cruises:

3 night Singapore & Malaysia cruise in Nov, Dec 17 & Jan 18 starting at Rs.18,485 per person
4 Nights Singapore, Thailand & Malaysia cruise in Nov, Dec 17 & Jan 18 starting at Rs.23,484 per person

---

| | |
| --- | --- |
| Star Cruises | |

Star Cruises is synonymous with Singapore and offers 2 to 5 night cruises to Malaysia and Thailand aboard Super Star Gemini. The ship has 765 cabins with a carrying capacity of 1500 passengers and offers 11 dining venues, 2 pools and a wealth of recreational facilities. The ship relocates to Bangkok for the first time in Dec 17 and will offer 2 and 3 night cruises till April 18

Featured Cruises:

(with 45 days advance purchase fare)

3 Nights Penang, Port Klang Diwali cruise on 15th Oct starting at
INR 25,400 per person
5 Nights Penang, Langkawi & Malacca Diwali cruise on 22nd Oct starting at INR 41,500 per person

---

| | |
| --- | --- |
| Princess Cruises | |

Princess Cruises sails to more worldwide destinations than any other major liner and caters to the discerning traveller. Sapphire Princess has been deployed for 4 to 17 night cruises from Singapore to Thailand, Malaysia, Vietnam, Indonesia from Dec 17 to Mar 18. The ship has well decorated staterooms, friendly staff, dazzling entertainment and wide range of culinary delights to suit any palate.

Featured Cruises:

4 Nights Malaysia cruise starting from just US $ 419 per person
7 Nights Thailand & Vietnam cruise in Feb & Mar 18 starting from US $ 889 per person